Vancouver – This weekend the Vancouver Southsiders will be joining fellow Independent Supporters Council (ISC) members across the league from the United States and Canada in stance against racism, in recognition of The International Day For the Elimination of Racial Discrimination (March 21).
On March 24, at the Vancouver Whitecaps v DC United match, after the National Anthem, we will raise red cards to show unity against racism and homophobia in soccer around world and here in Canada. We are hoping all Whitecaps supporters and fans will join to recognize this International Day and take a stand against Racism. The Independent Supporters Council are working with all its member groups to ensure that the same Tifo is displayed in stadiums across the entire league.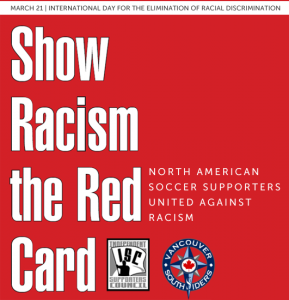 Prior to kickoff we will be distributing red cards to those in sections 248-254 of BC Place. We hope that fans in other sections will bring their own red cards if they do not sit in one of those areas. Just after the anthem we ask all fans to raise them in the air and hold them until first kick, to 'Show Racism The Red Card'.
Soccer in North America has a dynamic and rich history that is multiracial, and embraces the strength that comes with its diversity. The history of soccer here is unique from other parts of the world, in that a philosophy of inclusiveness has always been apparent in all of its aspects, including players, supporters, and management.
As soccer continues to grow in the North American continent, it is imperative that each of us take responsibility in ensuring the diverse heritage and culture of the sport continues. There are many recent examples in Europe and some in the United States where racism and homophobia have reared its ugly head.
Show Racism the Red Card works to increase players, management, and supporters' understanding of the inclusive heritage and diverse culture of soccer in North America. To promote young people's participation as active and responsible citizens in a growing multi-racial and diverse society. Provide tools and resources for management, supporters, and players to respond to bigotry in positive ways. Harness the high profile of top soccer players as role models to grab the interests of and educate the larger community on issues of inclusion and opportunity. Involvement of the leagues and/or teams to adopt anti-racism measures and inclusion of policies and practices, both on the field and in the stands. Providing team and league management the tools and framework to be able to swiftly deal with incidents of racist abuse and insults in a uniform manner. Showcase the unique strength of soccer in North America due in part to its diversity.
ISC- The Independent Supporters Council of the United States and Canada was founded in 2009 to advocate for the fair treatment of home and away supporters, promote supporter culture, and oppose racism and bias in the stadium. It now members now include twenty-nine Supporter Groups from MLS, NASL, USL-Pro and PDL clubs.
The Vancouver Southsiders are the largest independent supporters group for the Major League Soccer Vancouver Whitecaps FC. The Southsiders stand, sing, and above all else, have support the players on the field since their founding in 1999.
###